Ideas & Inspiration

3 Branded Merchandise Trends for 2020
It's the start of a new year, and the perfect time to take stock of your current branded merchandise strategy and plan for the year ahead. Whether you're looking to expand your retail strategy, boost brand awareness or find creative ways to engage employees and customers, branded products are perfect for nearly any campaign heading into the new year. 
In our more than 30 years in the business, we've had a front row seat to spot the top trends when it comes to promotional merchandise, from bags to bespoke clothing. Here, we share three of the top branded merchandise trends that we're seeing emerge in 2020, which, not surprisingly, are all connected to environmentally conscious consumption and ethical manufacturing. Let these important consumer preferences help guide your path toward an effective, ethical and eco-friendly merchandise line in the new year and beyond.
1) Get Eco-Creative with Your Merchandise
As more brands and consumers take stock to protect the planet, environmentally-friendly merchandise will be a key focus in 2020. It should come as no surprise that consumers are increasingly seeking sustainable products. One study found that half of the sales growth for consumer goods came from sustainably-marketed products. Another survey shows that two-thirds of people consider sustainability when choosing a product, and report a willingness to pay more for environmentally-friendly products. 
Today, many of your most popular merchandise items can be created in a more earth-friendly way. This includes bags made from natural or biodegradable materials and badges made from recycled plastic and much, much more. For example, for a retail-ready bag, consider the Harper cotton canvas drawstring backpack (pictured below). It features a front snap closure pocket and can be customised and delivered in as little as five days. Or are you looking for a more affordable option for a promotional campaign or giveaway? Consider the budget-friendly Calcutta tote bag, which is made from jute, a long shiny vegetable fibre that's produced from plants and biodegradable.
Did you know that we make more than just bespoke bags? We offer an entire Rocket Promo site with hundreds of environmentally-friendly options – other top products that fit the environmental bill include a unique Green & Good Danube pen, made from certified European sustainable timber, or a wire-bound notebook made from 100 percent recycled paper; it even comes with a matching pen with biodegradable parts. 
With eco-friendly products, don't forget that you can still apply fun and creativity in your product choices and design. If you seek a neat item for an office gift or corporate event, how about this clever little recycled wheelie bin pen pot? It's made out of recycled plastic and makes the perfect conversational desk accessory for your eco-conscious staff or customers.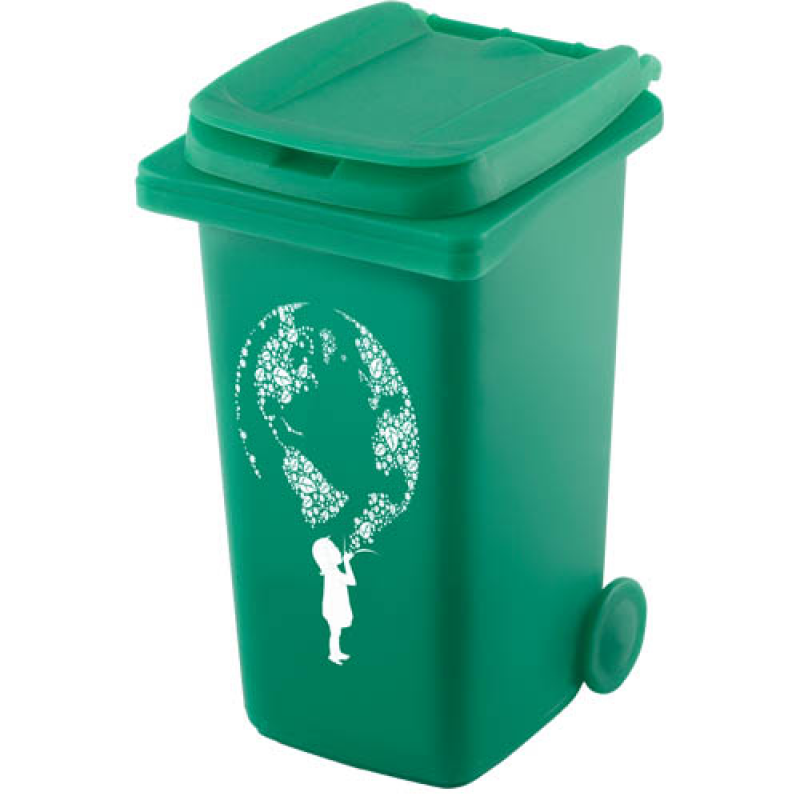 2) Ethical Manufacturing, Always
Marketing sustainable products is one thing. Ensuring that your merchandise is manufactured in an ethical fashion is another important consideration in the new year. As with purchasing decisions, more consumers will also be aware and critical of where their products come from and how they are made. 
To meet this growing concern, be sure to partner with a manufacturing company who takes ethical manufacturing seriously. For example, we regularly audit our factories and we refuse to work with those companies that don't treat employees safely and fairly and provide good working conditions.  Further, you can rest assured if you select one of our eco-friendly bags – as we can trace the origin of every single bag for peace of mind for both you and your customers. 
(While we hope you select us, we also care that you find the right partner! Plan to ask a few questions of any manufacturer you are considering in the new year.)
3) Reusable Merchandise
Building upon the eco-friendly trend, practical, reusable items that enable customers to reduce their use of single-use plastic will also be popular in 2020. To tap into this trend, look for popular and functional re-usable bags for life, like our Alice short-handled shopper bag, made from 100 percent organic cotton. It features a large print area for your special design, in a stylish, timeless and functional aesthetic. 
Another creative idea is a reusable drinking cup or mug or even reusable eating utensils. For example, we offer a popular reusable cup made from naturally-grown, organic bamboo fibre, as well as a fun, throwback re-usable spork made out of recycled plastic and digitally printed with your logo or message (pictured below). In general, think about your recipients and what every day plastic items they likely use now. Chances are, we can help find a more long-lasting, durable and eco-friendly alternative to reduce plastic use.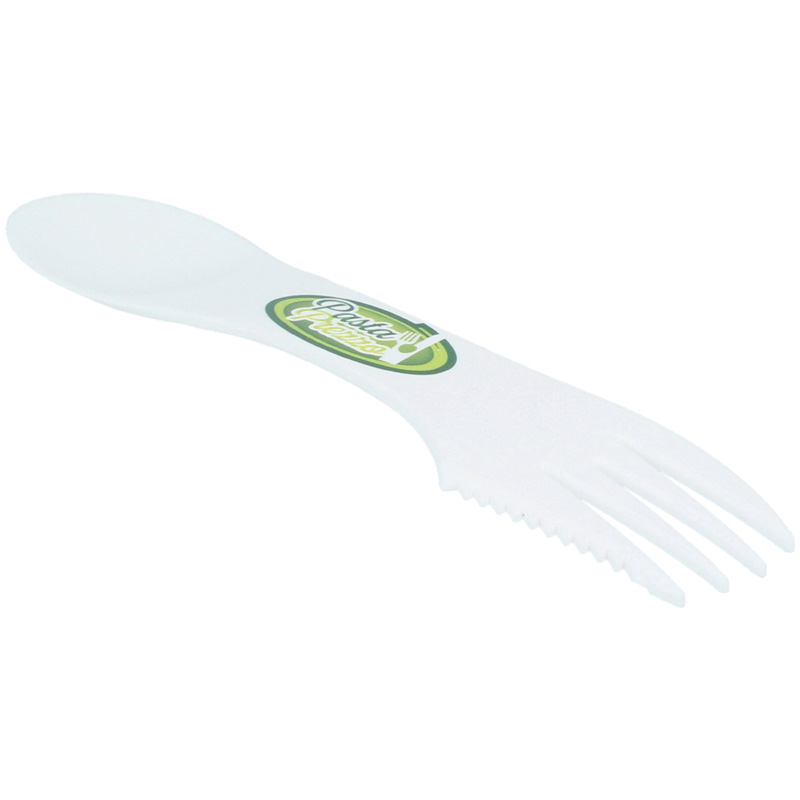 So, as you welcome the new year and chart your marketing and product strategies for the year ahead, consider opting for products that are environmentally friendly, ethically manufactured and reusable. In doing so, you'll build a better relationship with your customers – and the planet! Please get in touch with us today to brainstorm a few ideas and explore different prices and production times to meet your budget and timeframe. Happy new year!